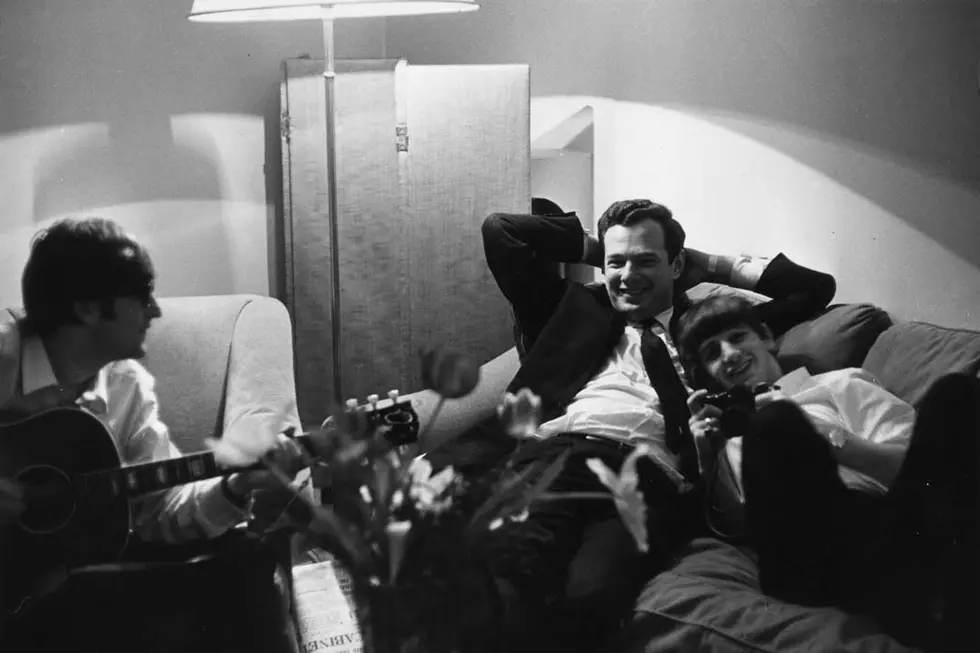 When the Beatles Signed Their First Contract With Brian Epstein
Harry Benson / Hulton Archive, Getty Images
The Beatles were one of the most popular bands in Liverpool by late 1961. They were also desperate to find a representative who would secure them a recording contract.
Earlier that year, John Lennon, Paul McCartney, George Harrison and early drummer Pete Best had a falling out with their first manager, Allan Williams, who'd booked their gigs in Hamburg, Germany. Enter Brian Epstein, whose family owned the local NEMS record store. Epstein had no managerial experience, but nevertheless resolved to represent the Beatles after seeing them perform at Liverpool's Cavern Club.
The group inked a five-year management contract with Epstein on Jan. 24, 1962. But Epstein did his homework before making the Beatles a formal offer. The Epstein biography The Man Who Made the Beatles recounts that the would-be manager approached Williams, who had battled with the group over a commission he felt he was owed. "I hope you don't mind me asking you, Allan, for a bit of help. I'm thinking of managing the Beatles," said Epstein.
"They're a fantastic group – but they'll let you down," Williams replied. "My advice is: Don't touch them with a fucking bargepole." Williams added, "They're ruthless. When it comes to contracts, be careful what you're signing. Make sure you can get out any time you want to."
Epstein was nevertheless smitten by the band's musicianship and humor. He courted the Beatles during a series of meetings held at his store in December 1961. "One evening we went down to the NEMS shop," McCartney recalled in Anthology. "We went upstairs to Brian's office to make the deal. I was talking to him, trying to beat him down, knowing the game: Try to get the manager to take a low percentage. And the others tried as well, but he stuck at a figure of 25 percent. He told us, 'That'll do, now I'll be your manager,' and we agreed."
Lennon later told Hit Parader that "Epstein was serving in a record shop and he had nothing to do, and he saw these sort of rockers, greasers, seeming-greasers playing loud music and a lot of kids paying attention to it. And he thought, 'Well, this is a business to be in.' And he liked it – he liked the look of it. He wanted to manage us and we had nobody better, so we said, 'All right, you can do it.'"
Watch a Profile on Beatles Manager Brian Epstein
The contract was signed at Best's family home in a Liverpool suburb. Its basement housed the Casbah Club, a coffee bar operated by Best's mother, Mona. As members of the Quarrymen, Lennon, McCartney and Harrison played some of their earliest gigs at the Casbah in 1959.
The contract gave Epstein 10 percent of the Beatles' earnings, up to 1,500 pounds a year – about $4,200 dollars in 1962. Should the band earn more than that, Epstein's take went up to 20 percent. By 1963, Epstein's commission was 25 percent of the Beatles' income.
All the Beatles signed the contract, but Epstein did not. It appeared Epstein heeded Williams' advice: "Make sure you can get out any time you want to."
In his autobiography, A Cellarful of Noise, Epstein explained: "Why had I not signed it? I believe it was because even though I knew I would keep the contract in every clause, I had not 100 percent faith in myself to help the Beatles adequately. In other words, I wanted to free the Beatles of their obligations if I felt they would be better off."
Epstein ultimately signed another five-year contract with the band in October 1962. But Harrison and McCartney noted in Anthology that his inexperience ended up becoming an issue anyway. "Brian didn't get very good deals on anything," Harrison said. "For years, EMI were giving us one old penny between us for every single and two shillings for every album."
McCartney agreed, saying "Brian did do some lousy deals and he put us into long-term slave contracts, which I am still dealing with." Harrison added: "If we'd known in 1962-3 what we know now, or even what we knew in 1967, it would have made a real difference."
The Best Song From Every Beatles Album
Consensus can be difficult to reach on which Beatles album is best – much less which song.
The Beatles Are One of the Bands Who Hated Their Own Album