Eric Clapton Says George Harrison Does Not Appear on His New Album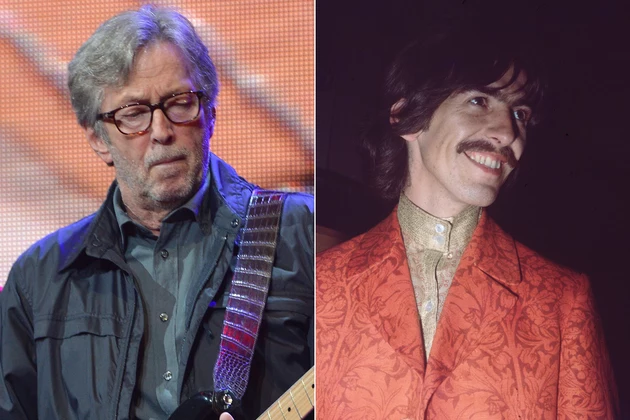 Shortly after Eric Clapton announced the release of his upcoming album, I Still Do, it was believed, based on a pseudonymous credit, that one song featured a performance by the late George Harrison. However, Clapton, in a new interview, says that it's not Harrison, and won't reveal who it is.
"No, it's not George," he says in the new issue of Guitar World. "Well, the thing is, the person wishes to remain anonymous. So we came to that arrangement, and we both thought it was the best idea, for one reason or another. And I can't even tell you that much. I'm sworn to secrecy, and I hope he is, too. But I quite liked it."
The word had spread because the part on "I Will Be There" was credited to "Angelo Mysterioso." This was very similar to the pseudonym of "L'Angelo Mysterioso" that Harrison used on "Badge," the song he and Clapton wrote on Cream's 1969 album, Goodbye. Clapton admitted that he's enjoyed people talking about his dearly missed friend.
"I heard there were rumors about it being George," he continues, "and I thought that was great because it's nice that people know about that story. That's why we used to do it a lot, and I still like to do that now. I've been that 'angel' sometimes. George was, and now there's someone else. So I can't say who it is, but I like the speculation."
I Still Do will be released this Friday (May 20). So far, he's previewed two songs from the record, "Can't Let You Do It" and "Spiral."
Eric Clapton Albums, Ranked Worst to Best
Source:
Eric Clapton Says George Harrison Does Not Appear on His New Album